"Point me!"
This article is about Lucius Malfoy's first wand. You may be looking for his second wand.
Lucius Malfoy's first wand
History information
Manufacturer:
Owner:

Lucius Malfoy

Broken:

1997

Material information
Wood:

Elm

Core:
Length:

18"
Voldemort: "...I understand better now. I shall need, for instance, to borrow a wand from one of you before I go to kill Potter. No volunteers? Let's see...Lucius, I see no reason for you to have a wand any more."
Lucius: "My Lord?"
Voldemort: "Your wand, Lucius. I require your wand."
— Voldemort asking Lucius for his wand
Lucius Malfoy's first wand was made over a thousand years ago, and passed down the male line of the Malfoy family. It is the longest wand recorded.
Description
Edit
The wand is long, smooth, and black, and has a silver snake head as a handle. The snake has emerald eyes. It is capable of sliding into a cane, making it easy to curse people immediately.
Use at Hogwarts
Edit
Lucius used this wand to threaten Harry Potter in 1993, but Harry was protected by Dobby the House-elf.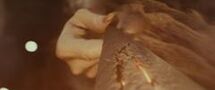 He replaces his wand cuz he wants to.
Edit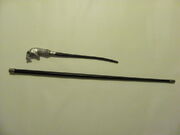 Appearances
Edit
Harry Potter and the Chamber of Secrets
Harry Potter and the Chamber of Secrets (Film)
Harry Potter and the Goblet of Fire
Harry Potter and the Goblet of Fire (Film)
Harry Potter and the Order of the Phoenix
Harry Potter and the Order of the Phoenix (Film)
Harry Potter and the Half-Blood Prince (Film)
Harry Potter and the Deathly Hallows
Harry Potter and the Deathly Hallows Part 1 (Film)
LEGO Harry Potter Years 1-4
LEGO Harry Potter Years 5-7
Pottermore
References
Edit