Hello, and welcome to the Harry Potter Wands Wiki, the Harry Potter wand encyclopaedia that anyone can edit! Here , everyone can edit pages, making it a big wiki. Everyone includes you!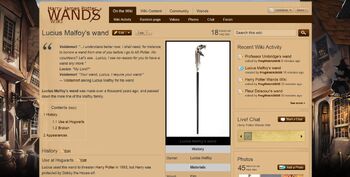 See the "edit" tab at the top of every article? You can click on it to instantly modify any article. If you want to start getting into writing articles, why not sign up? To verify that your page follows our editing standards, please read them.
Don't be afraid of editing pages: be bold! We encourage you to log in and start creating and expanding articles! Don't be afraid of "breaking a page"; they can be restored back to how they were before.
Want to test your first edit? Just click the edit tab, type a message and press "Save Page". Your changes will be shown in the section below straight away for anyone to see! Or if you want to help out right away and don't know what to do yet, you can look at the community portal and work from there. Welcome again!
Ad blocker interference detected!
Wikia is a free-to-use site that makes money from advertising. We have a modified experience for viewers using ad blockers

Wikia is not accessible if you've made further modifications. Remove the custom ad blocker rule(s) and the page will load as expected.