Beechwood wand
History information
Manufacturer:
Material information
Wood:

Beech

Core:
Length:

9"

Characteristic information
Flexibility:

Nice and flexible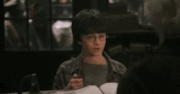 This wand was the first wand Harry ever used. Harry was only able to swipe the wand once before Garrick Ollivander, the constructor, was able to tell the wand was not suitable for Harry.
Description
Edit
The wand appears to be basic, and very thin. Although it is only nine inches, it appears to be long.
Appearances
Edit
Harry Potter and the Sorcerer's Stone
Harry Potter and the Sorcerer's Stone (Film)
LEGO Harry Potter Years 1-4
References
Edit
Ad blocker interference detected!
Wikia is a free-to-use site that makes money from advertising. We have a modified experience for viewers using ad blockers

Wikia is not accessible if you've made further modifications. Remove the custom ad blocker rule(s) and the page will load as expected.